Role

: User Research, UX Design
Team

: Stephanie Niu, Chloe Keilers, Xiaohai Liu
Overcrowded gym equipment can be frustrating for busy students squeezing in a workout between classes. How can we encourage a healthy lifestyle for students by making gym-time effortless?
As this project was focused on fitness on Stanford's campus, our target users were not only those that utilized university gym facilities but also actors involved with the Stanford Recreation & Wellness department. Through secondary research, we created an actor map of all possible people involved in the process of a student going to the gym.
We chose to focus on two groups of actors most heavily involved in the process of going to the gym: facility experts and gym users.
For each actor type, I created a recruitment plan including a field guide and screener to ensure we had a diverse range of gender and gym use, and so that we could screen out participants who currently or previously participated in a team sport. We wanted to primarily focus on the challenges faced by non-expert gym users.
After interviewing 4 Stanford students, 1 Stanford affiliate, and 4 facility experts, we heard many stories and challenges around how fitness fits into the lives of students, affiliates, and gym staff. We had participants take us on a a tour of the Stanford gym they last worked out at.
We met Jenny, a senior at Stanford who follows Blogilates Youtube videos twice a week and runs on the treadmill using an interval training preset.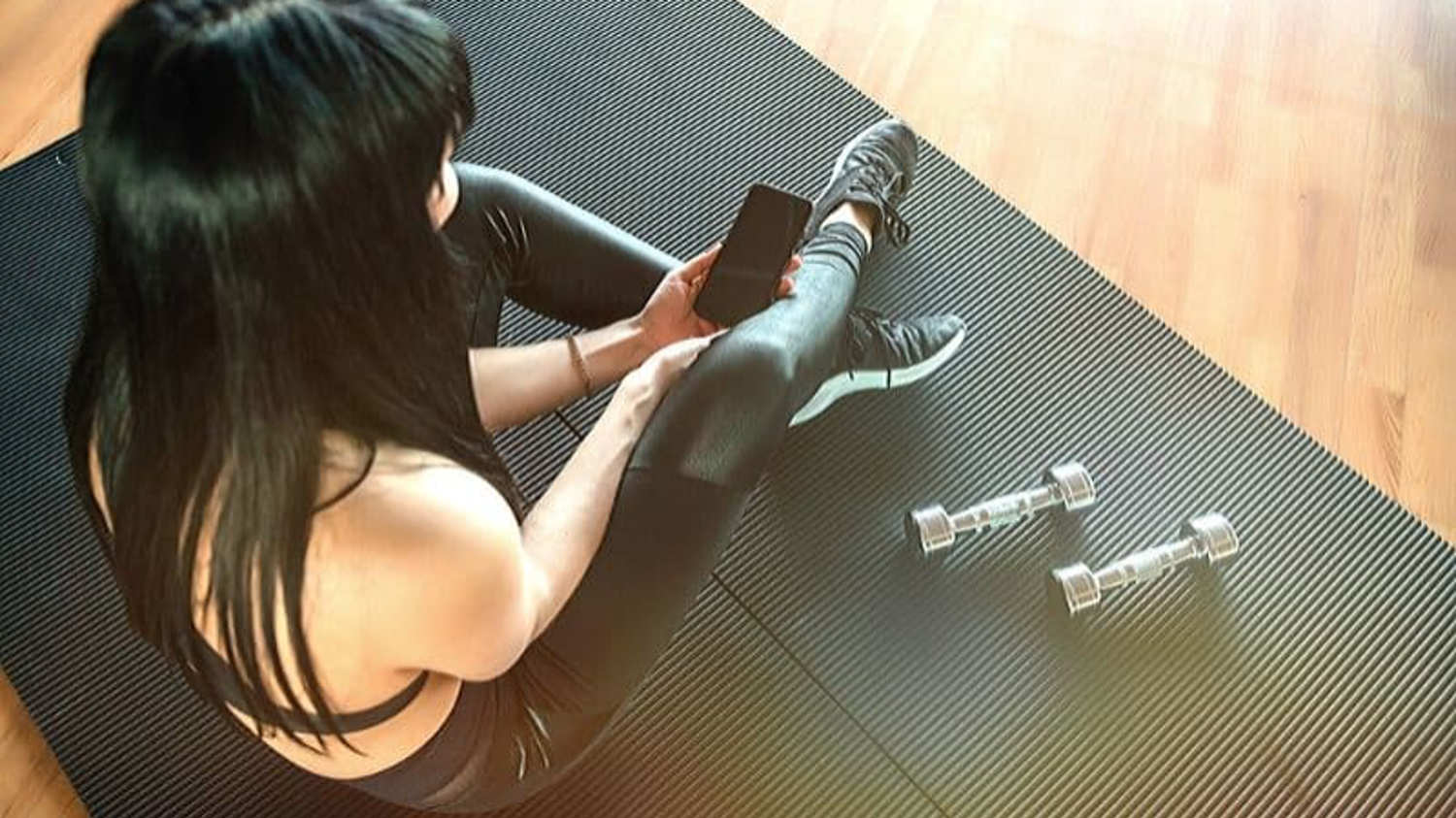 "I would rather not use a machine at all than ask someone for help."
Jenny wasn't the only one who felt deeply uncomfortable in approaching others at the gym. We met Angela, a junior at Stanford who told us, "I only know how to use two of the leg machines. If they're not free, I'll just skip that part of my workout." We also spoke to Alec, a recent Stanford graduate who continues to use the gym facilities. With a new work schedule and a desire to keep up with his previous fitness routine, he mentioned his frustrations, saying that "Sometimes I'll skip part of my workout if the lines for the racks are too long. The wait can be up to 30 minutes when it gets busy."
Workouts are cut short when equipment isn't available. Why?
Developing a grounded theory
But why is asking for help at the gym so difficult? Our interviews led us to two key insights:
1. Gym-goers feel like they don't want to disrupt others at the gym by asking for help.
Gym-goers perceive each others' time as personal time; asking each other for help disrupts this. Even though people at the gym collectively have a large body of knowledge, implicit rules prevent individuals from accessing this knowledge and getting the best workout possible.
2. Going to the gym is an "escape" from academic stress, so gym-goers rely on defaults to make working out easy.
In addition to respecting implicit rules, many gym users like to follow a set of defaults (a preset routine on the elliptical, a YouTube video, etc.). Following a default makes starting a workout easy and reduces decision-making.

What if we made asking for help an expected, explicit benefit of our service?
Running usability tests with comparators
We were interested in exploring how existing digital solutions could inform our design, so we created a field guide for 3 usability studies of comparators. We wanted to understand:
Zocdoc
: Do people prefer to select service providers or be given a recommendation?
OfferUp
: How does a seller's profile impact a user's preference for communication method?
Coffee Meets Bagel
: How do people set expectations for a service?
The results from our usability studies led us to focus the scope of our work on a task that involved filtering and choosing between various options: scheduling a trainer/workout. To design this task, we needed to understand:
1. Do our users perceive the trainer or the workout as the product of our service?
2. What information people do people use to make their decision?
We sketched two versions of our wireframe to run in an A/B test with three student gym users: a workout browser and a trainer browser.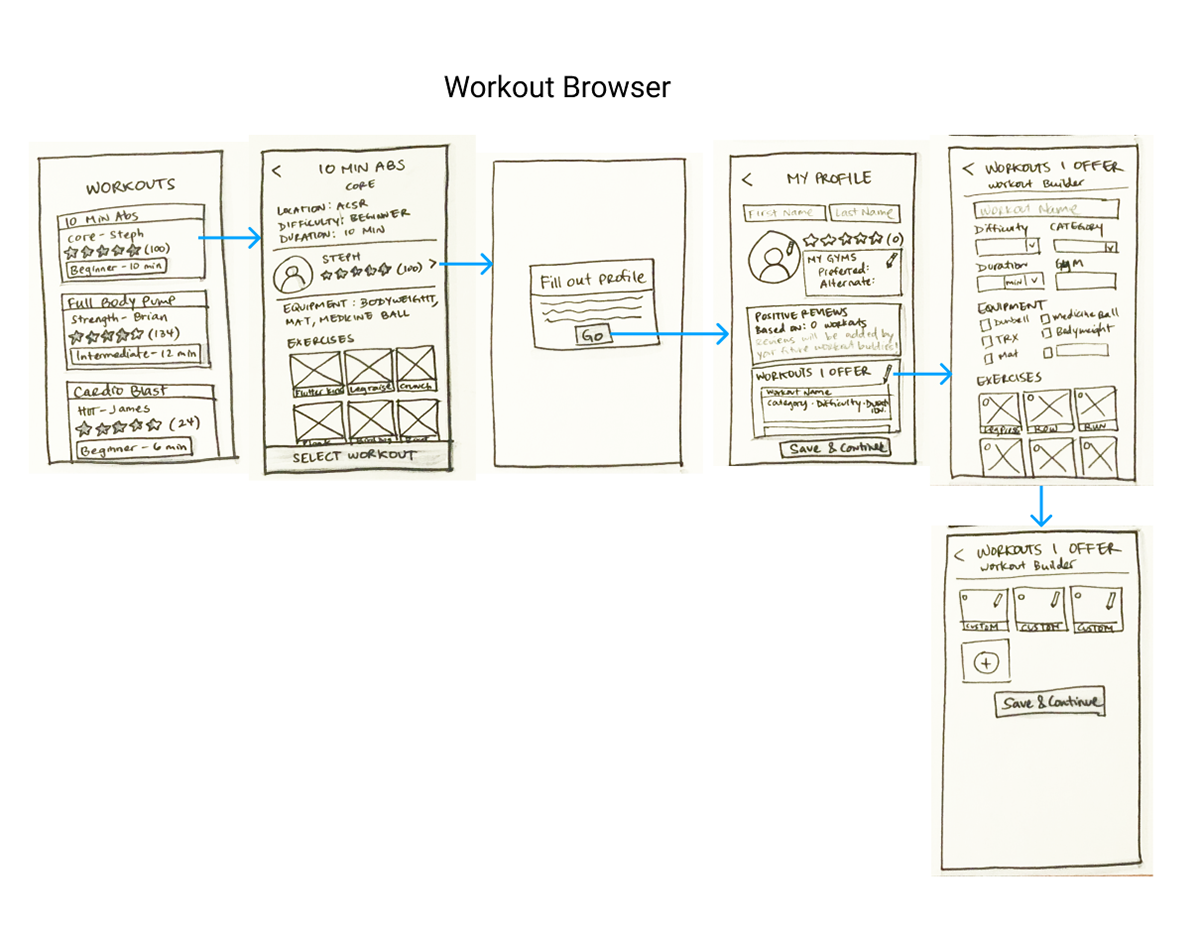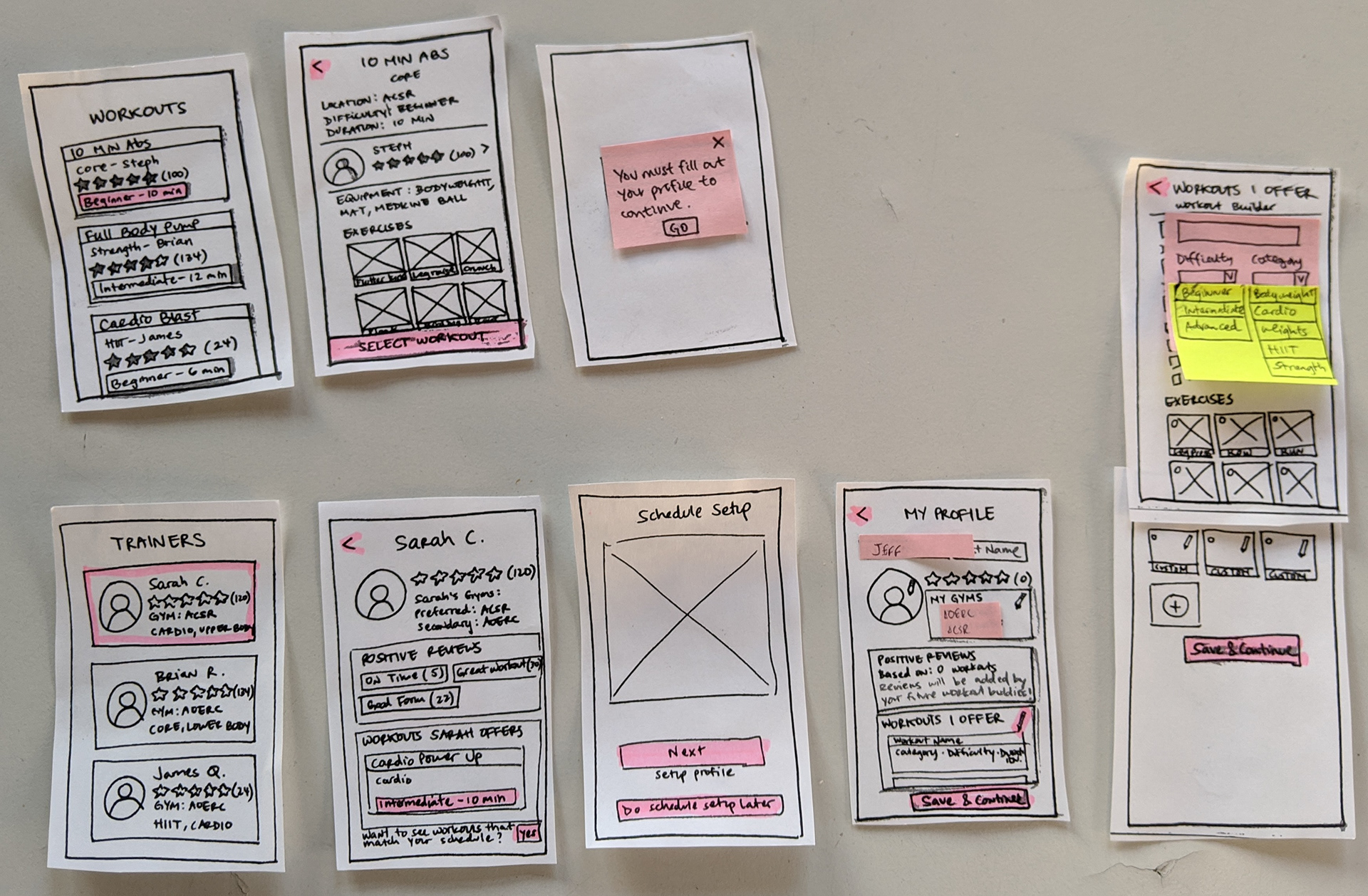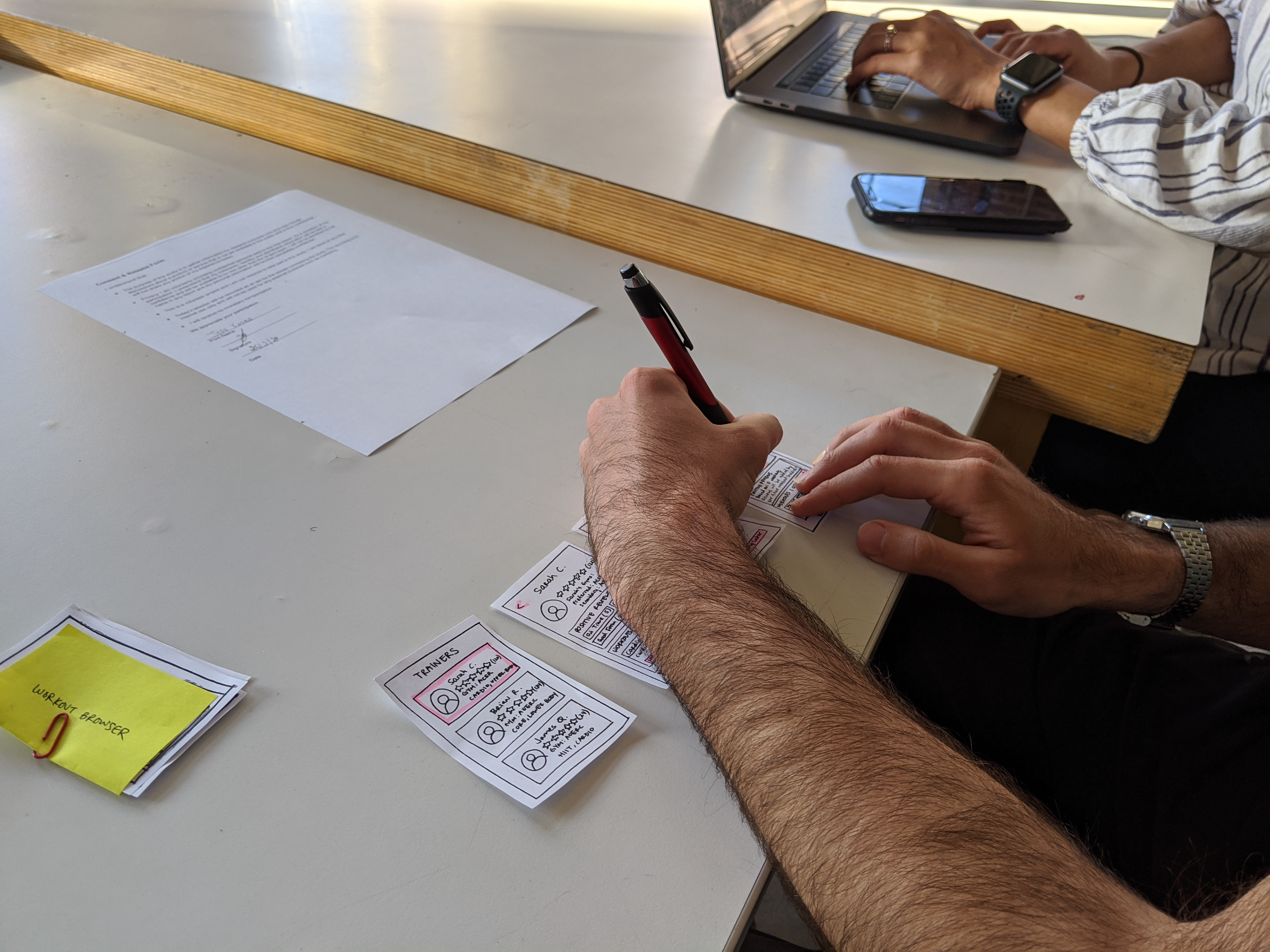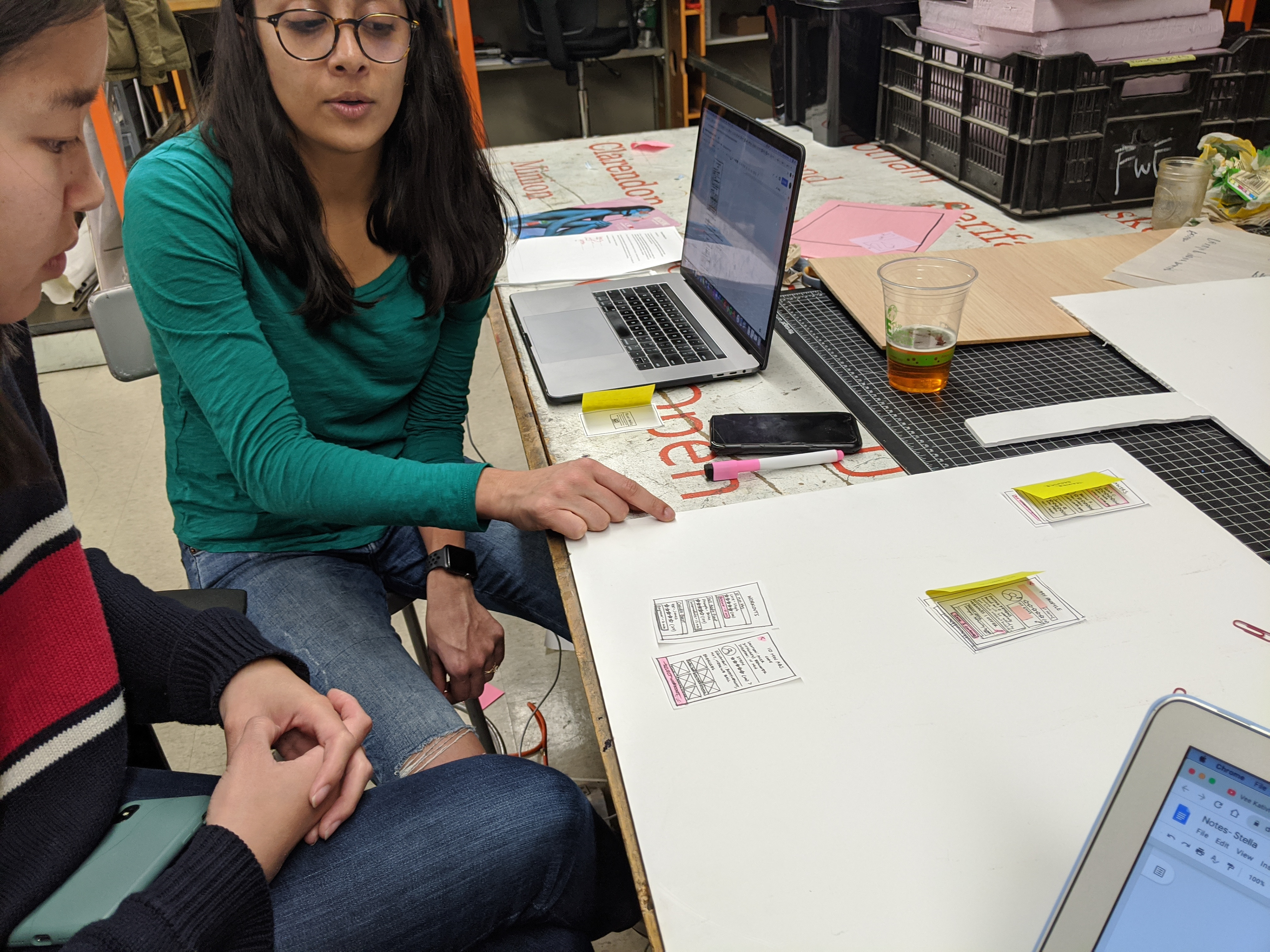 We found that our users thought that the person they workout with was more important than the workout itself.
What was interesting was that people had different mental models of who this person could be - a trainer, a friend, or an acquaintance that shows them a workout. Each had distinct roles. A trainer is a paid professional with expertise, a friend can't hold you accountable though you might feel comfortable working out with them, and an acquaintance could keep you accountable and focused, but you'd only work out with them if you didn't think they were "weird."
We chose to move forward with the 'acquaintance' model since our users valued the accountability of working out with someone. However, we renamed them as 'buddies,' hoping to embed elements of personality and trust into their profile cards and the interactions needed to connect with them.
By simultaneously testing and iterating on our design, we were able to maximize the feedback on our design changes in a 1-week sprint.
Motivating questions
How do people choose a workout buddy? What features of a buddy are important to them? What do people assume about the buddy-user relationship?
6 Participants
Role: 2 undergraduate students, 3 masters students, 1 Stanford affiliate
Gym usage: range of occasional (1-2 times per week) to frequent (6 times per week)
Below is a sample document illustrating the progression of the first screen in the app.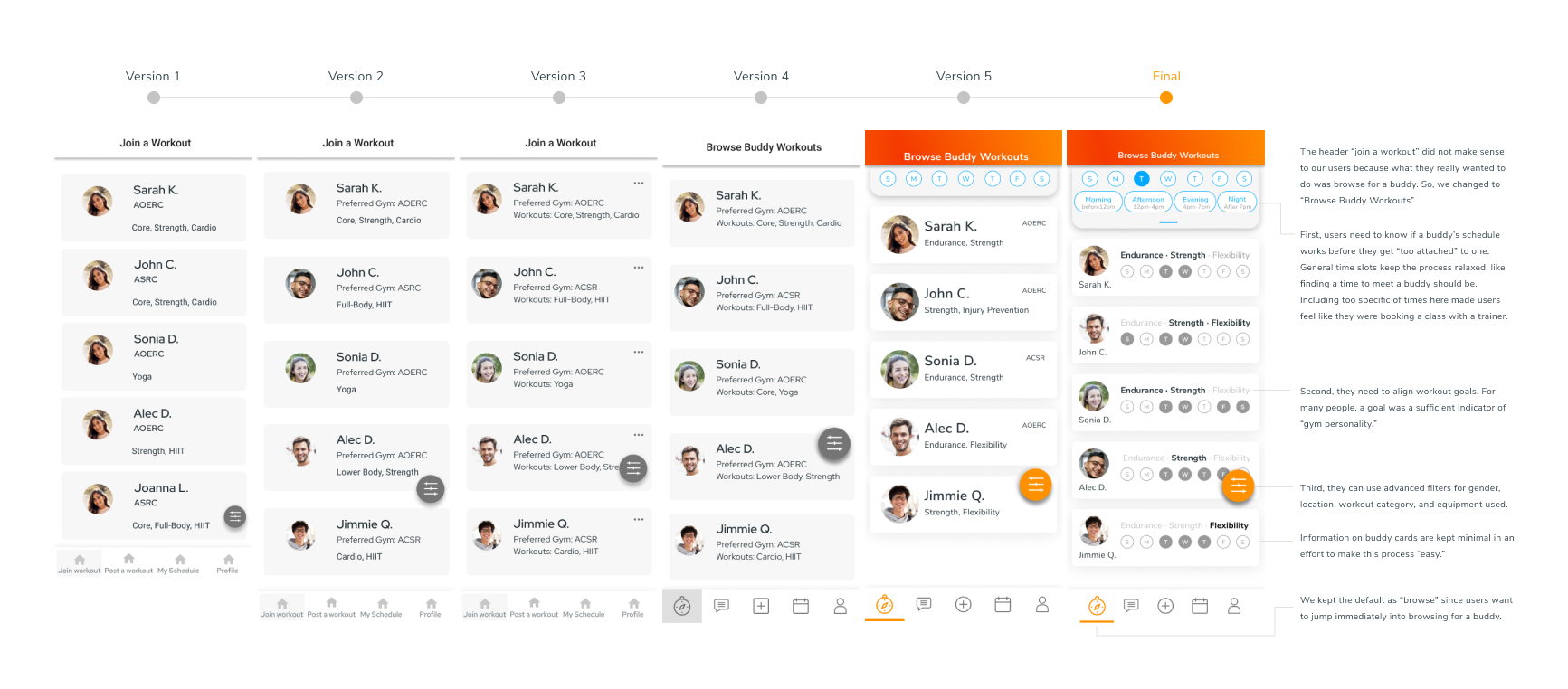 Through our interviews, usability studies, paper prototypes, and RITE testing our digital mockups, we learned that when students look for a gym buddy, they're looking for someone to keep them motivated and accountable. They're also looking for a process that is easy. With the stress of school, figuring out logistics around workouts is the last thing they want to worry about. Keeping this in mind, I created a mood board that reflected a visual language revolving around these four words: energized, high-spirited, camaraderie, and easy.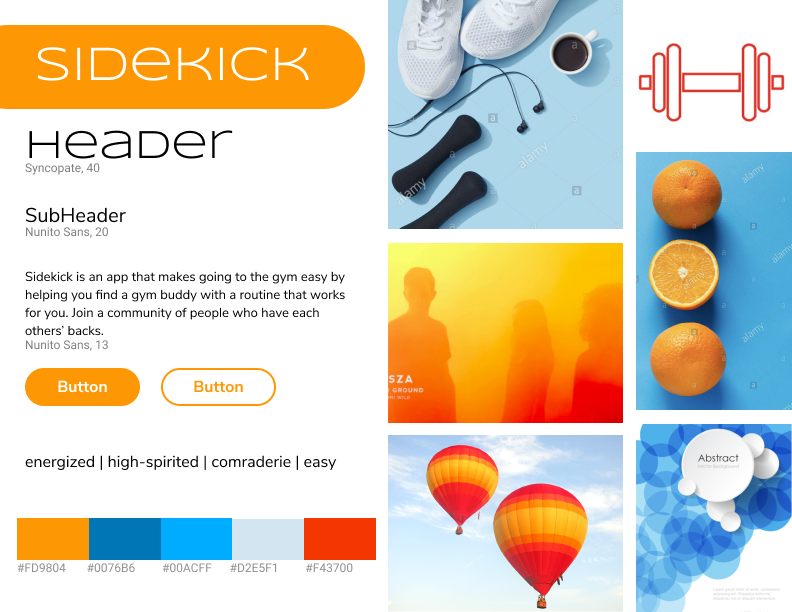 Meet Sidekick.
Learn new workouts by following a buddy's routine.
With Sidekick, Jenny can still follow along a routine, but she now has someone to teach her how to use new equipment to strengthen her core. Most importantly, with a gym buddy explicitly designated to help her, she doesn't have to feel like she's violating a social norm to ask for help.