How might we reduce social isolation in older adults?
User Research, Service Design
- Stella Tu (Project Management)
- Drew Skrainka (Visual Design)
- Katie Connor (Business Strategy)
- Contextual inquiry
- Usability testing
- A/B testing
- Personas
- Journey maps
- Recommendations Database (Airtable)
- Service blueprint (Figma)
- Business plan
Retirement is an inflection point for most adults. We believe that if we can get adults to engage in meaningful work as they transition into this stage of life, they will maintain connections to communities with similar interests. Our goal is to make exciting, meaningful experiences accessible to all through
Act II
. [
This is a current project
]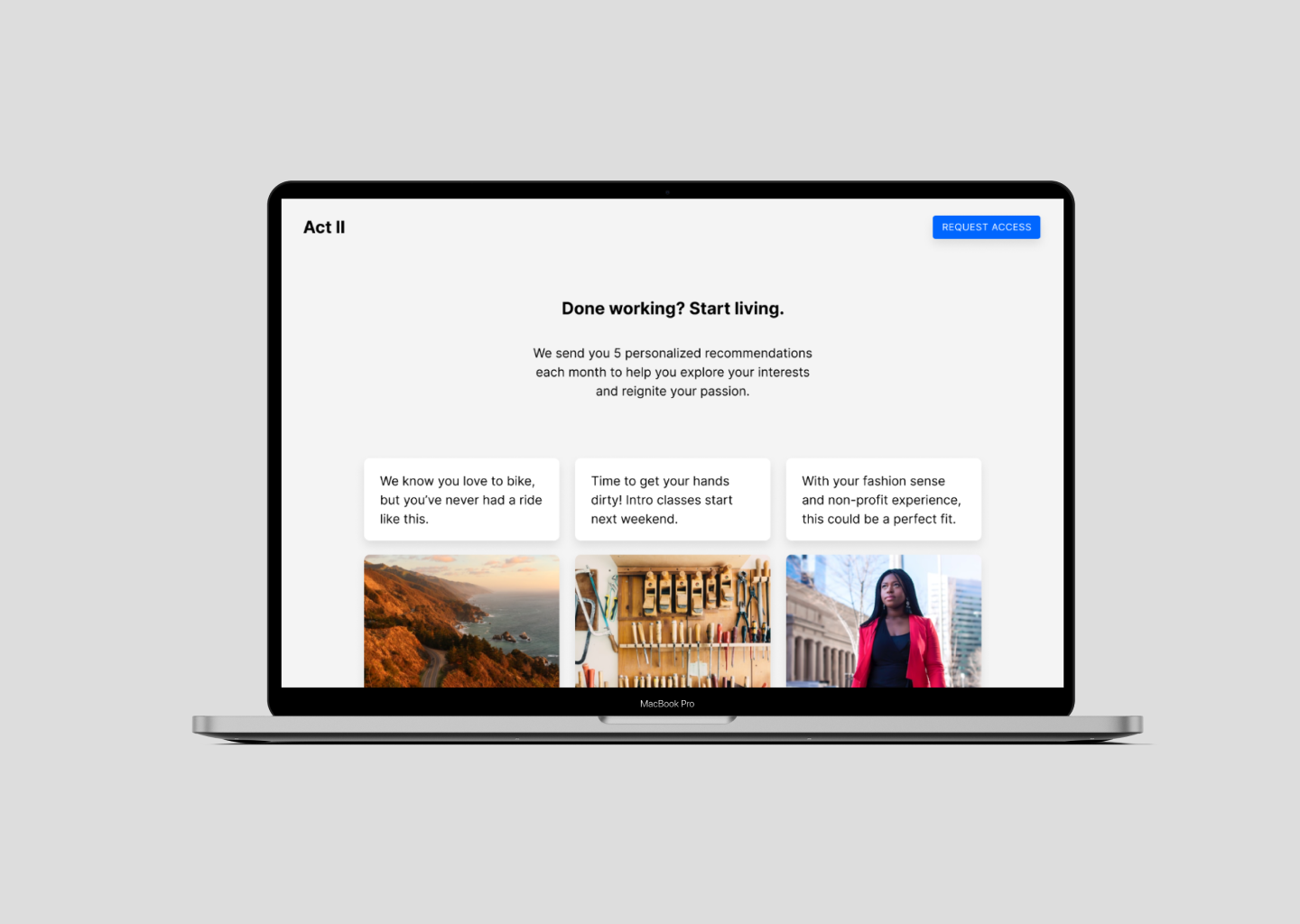 By 2030, over 1 in 5 people in the united states will be over the age of 65. We live in a world optimized for much shorter lifespans, but this changing demographic calls for us to reconsider what we do with all of the extra years.​​​​​​​
Out of the 50+ people we have interviewed, not a single adult wanted to call themselves "retired." They're not done.
I want to change that. What if retirement could be something to look forward to? What if it was just "Act II"?​​​​​​​
Step 1: Interviewing college students and retiring adults
Initially interested in how to design a service to build intergenerational relationships to help people through moments of transition, our team interviewed 40 college students and retiring adults.​​​​​​​​​​​​​​
Turns out, graduating college students and retiring adults have a lot in common, except there's no "career center" for retirement.

Step 2: Card sorting the retirement journey
Focusing in on the life transition of retirement further, we ran a card sorting exercise to to understand what that journey feels like. Right away, our users pointed out a crucial distinction in our framing with their mental model:
The journey of retirement deals with going from "who you were" to "who you'd like to become."
"Who you'd like to become" is a scary question when you've left your career, your kids have graduated, and your parents have passed away.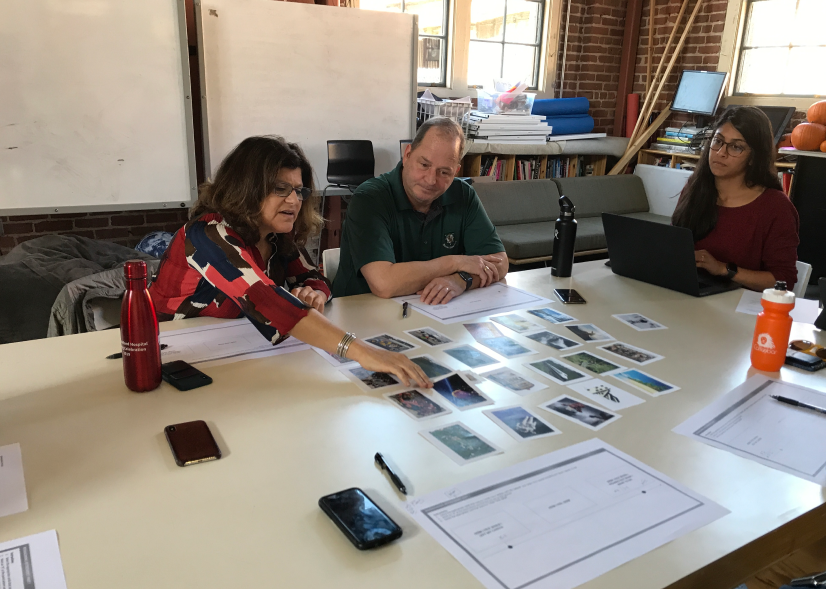 Most of the four journeys our participants created looked like the one below. The most important part of the journey was the fact that it was a cycle - something that doesn't just end with an Act II, but continues to an Act III, IV, V.

Step 3: Surveying retiring adults across the US
To confirm our card sorting results with quantitative data, we surveyed 35 adults over the age of 50 across the US. 
We found adults less than 2 years from retirement found "testing" to be the most challenging part of the journey.
​​​​​​​
For us, this meant we would focus our service on experimenting with passions rather than jobs - a need specific to high-achieving professionals. This made sense given th

e competitive landscape of existing solutions in the space of late-career flexible work opportunities (iRelaunch, Maven, Reboot Accel, Amava)
Community ranked last in the things that retiring adults are looking for in our service.
​​​​​​​
Survey participants said, "I come before community in general" and "It is about me, me, me, me and then all others." This echoed our interview findings. Though community can be valuable, it isn't always the first thing that people are looking for. It's a reason people stay.
Step 4: Defining the challenge
After hearing from our users how valuable a stranger's objective perspective can be on their life - given no preconceived notions of a retiring adult "should" be doing - we were inspired to be the Stitch Fix of retirement experiences.
How might we enable late-career adults try on new identities, and return them if they don't fit?
Step 5: Prototyping a retirement "concierge"
​​​​​​​
We prototyped a full-fledge concierge service for 8 retired corporate executives. Our mission was to help them try on meaningful experiences during their retirement.
1. First, we interviewed our users with an in-person "Interests quiz."
2. We brainstormed ways we could reframe our users' interests to exciting experiences.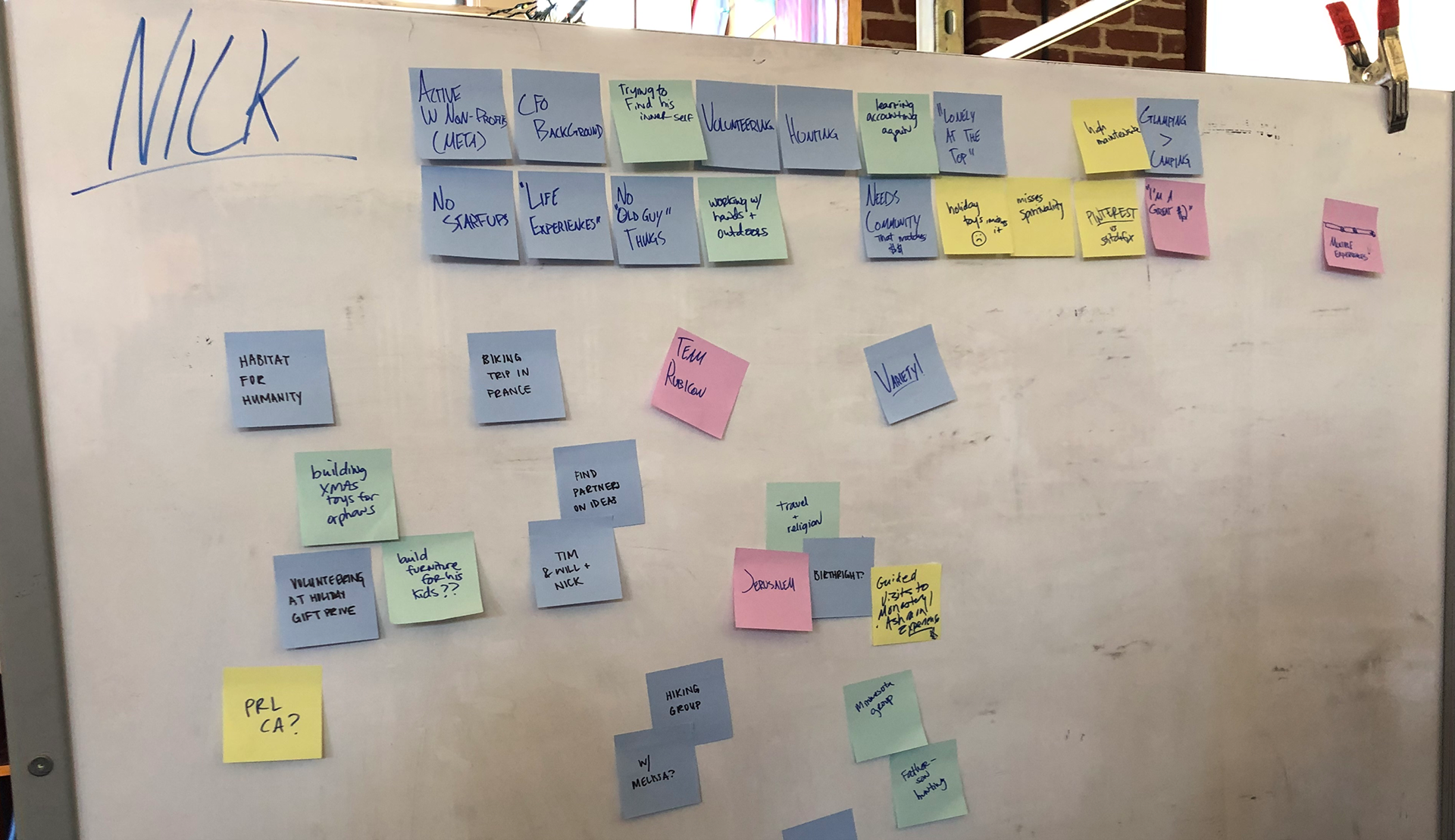 3. We presented these curated experiences to them.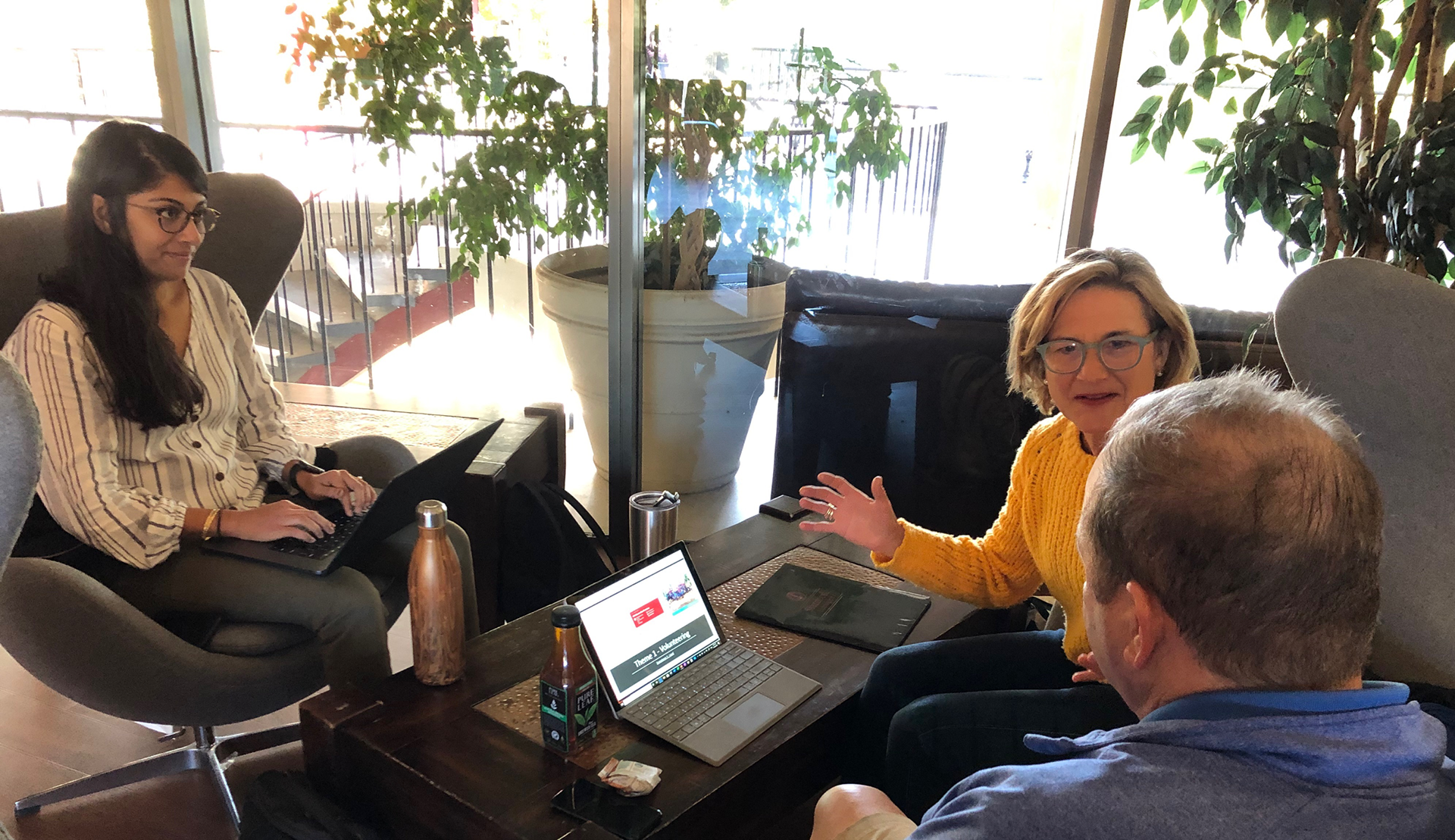 4. We'd ask them to select their top 3 and try them out.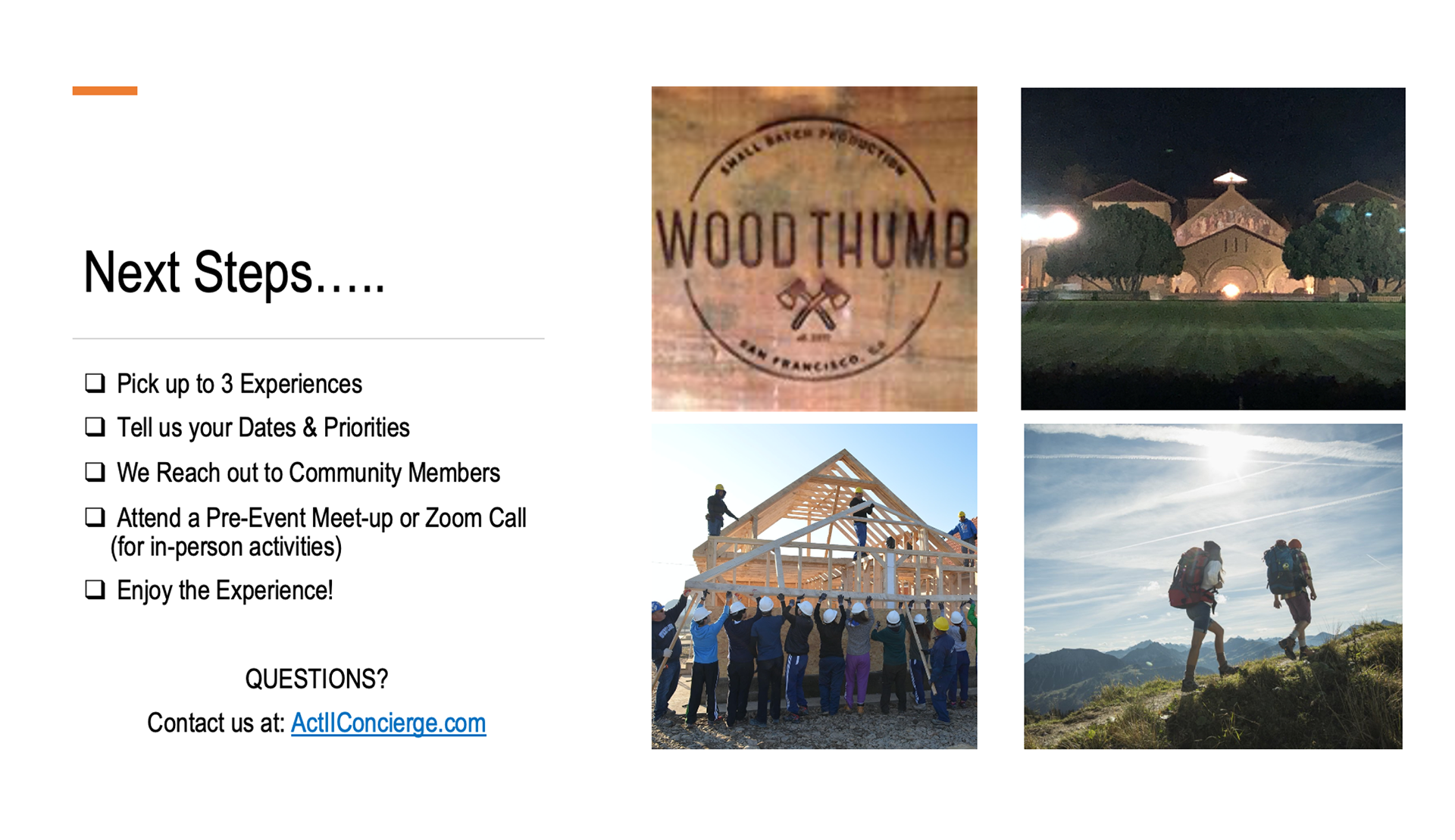 5. Finally, we got their feedback!
"I think what's great ... is when you're offered an option to do something, and you say no, or you don't find the time to do it, there's a lot of learning that comes just in that process."
Debbie, Act II user
This prototype allowed us to see patterns in our users that helped us create 3 personas.
​​​​​​​
1. Nick, who needs a way to stay focused and accountable to pursuing his passions
. Though he is looking for a way to reignite his old passions, for him the most important part of our service is the community to hold him accountable.
2. Wanda, who already has a full plate of activities, but needs someone to offer a fresh perspective on something new.

For her, our core value is reframing her skills into new, exciting experiences.
3. Debbie, the one who is looking for the next big thing to work towards.

For her, the most important part of our service is the learning that comes from process: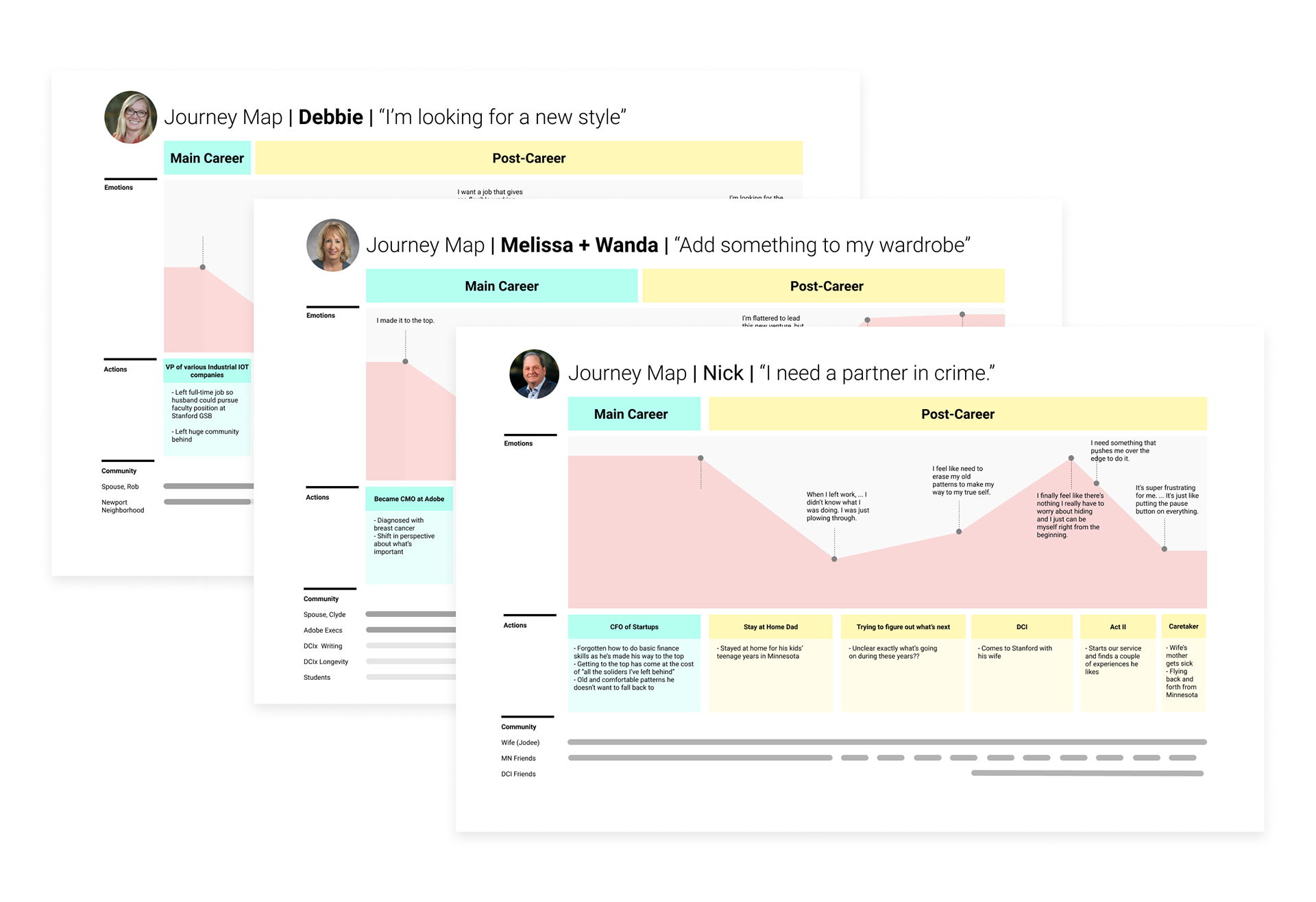 Step 6: Creating an MVP around our value proposition
With the data from our first concierge prototype, we knew we needed to simplify our service to understand where our customers found the most value.

To test our value proposition, we ran a Facebook ad campaign reaching 10,000 adults over 50. Over 2,000 users visited our landing page!

Step 7: Defining a service blueprint, a living document
With the new reality of virtual work due to the spread of COVID-19, it is more important than ever for our team to be aligned with our work. I created a service blueprint to document our current service so that we could have a living document for us to refine as our project progresses.​​​​​​​
I leveraged my manufacturing experience in developing value stream maps to define an MVP and develop a service blueprint.
I incorporated the team's feedback into a revised service blueprint for Act II. This document acts as a source of truth for our interactions with our 12 active users.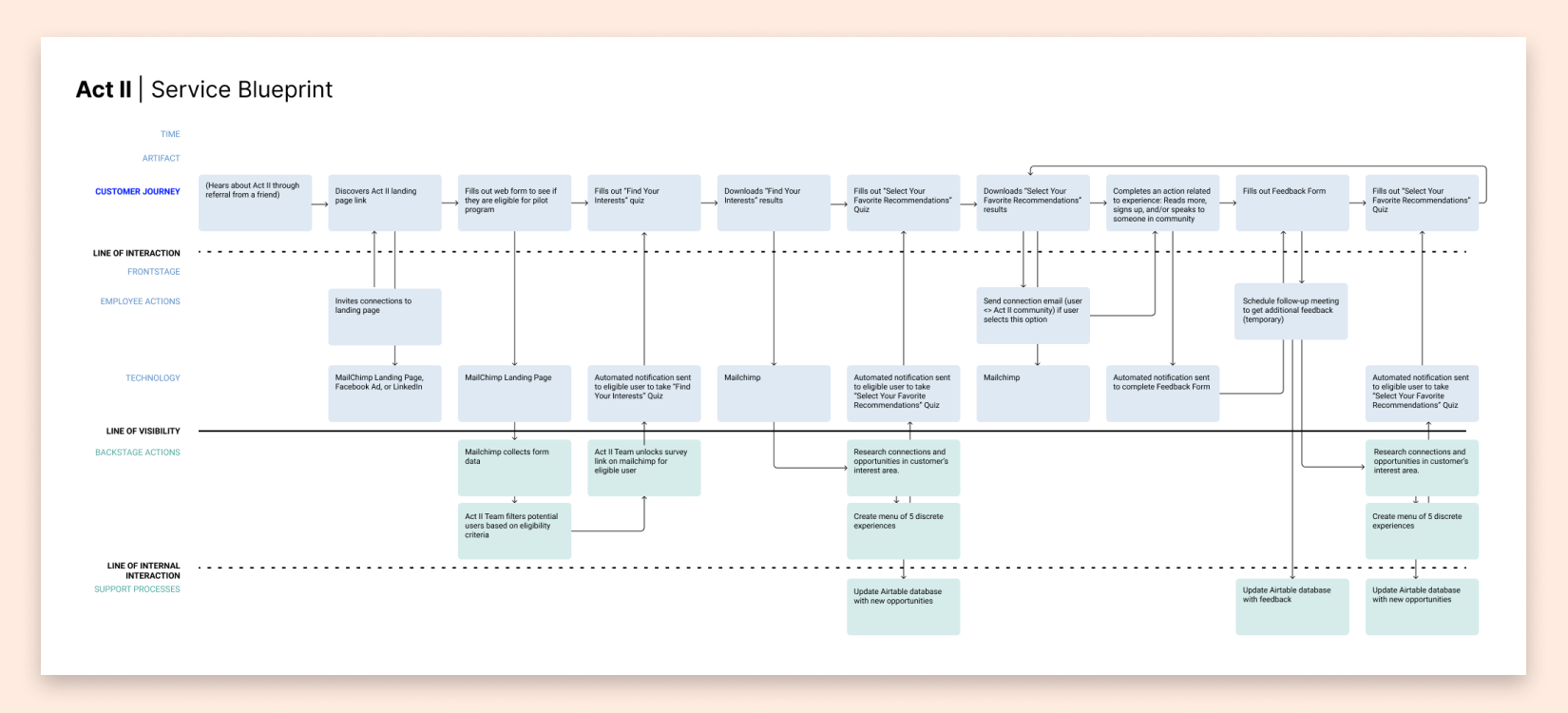 1. We are running pricing experiments to quantify who values our service and for how much.
2. As with most businesses, COVID-19 is changing the way our users prioritize what is most important for them in the moment. We are currently exploring ways that we can incorporate our service into the current needs of our 12 users.​​​​​​​
With the new reality of shelter-at-home due to COVID-19, we're offering a free weekly set of recommendations that make sense for our users right now.
3. I am currently looking at a way to map our data in a way that is most useful to us, taking into consideration our needs:
- a quick dashboard of the current status of our users
- a detailed view of our project insights and the supporting data for each
- an understanding of how each of our users maps to a persona, and how each persona finds value in our service
I am building out a database to monitor KPIs that track the success of each suggested experience as well as the types of users interested in our platform.